Beyond Time
(2019)
Chromogenic print
44" W x 29" H
"There's a white Barn Owl couple who inhabit the palm tree in my backyard. They come out like clockwork at 8pm to feed, gliding over the pool gracefully. One night, the female came out to see what I was doing when I was pounding beach glass in the back courtyard for a cyanotype. She perched on a branch a few feet away from me for twenty minutes observing. I kept on working and hooting at her to communicate that she was safe and I was an ally. My healer Emily came over one day to read my tarot. I noticed on the back of her neck, she had a tattoo of the same feathers that I find beneath their tree. So I knew that they were sacred animals. I decided to clean their pellets to make these "bone meditations."
I got very ill after the fire. My nervous system was so taxed that my body's thyroid went into hyper mode and wouldn't stop. I was diagnosed with Grave's Disease when I was traveling in San Francisco. My longtime friend that I was staying with led me in a "Bone Meditation" where she asked me to feel the weight of my bones in my body. To ground them down into the earth, and release through my sacral chakra all my anger, fears and traumas.
Making these pieces means a lot to me. It taught me patience and that healing takes a lot of work and time. Working with the tiny bones was like pushing a mantra around a Ouija board and throwing bones down like an I Ching to create the words. Meticulously, it developed into a language that communicated to me, a message in that moment from Quan Yin. This one "Beyond Time" taught me many lessons about being present, leaving a legacy and the work you put into having a meaningful life.
Words are like mantras to me. Their energies are poetic and forever in our psyche. I wanted it to be there forever and in multiple, so I wanted this to exist and be accessible to many as a photographed edition.
Joint Wisdom
38" x 26"
(2019)
Archival Print
Edition of 10
Salvation Mountain
(2019)
30" x 20"
Archival Print on metallic paper
Edition of 10
Salvation Mountain is a beloved, public art sculpture built by Leonard Knight. It represents his Chiron work. A failed attempt at launching his lifelong dream of a hot air balloon from the site in the desert, he stayed after for a week which led to his entire lifetime, dedicated to building this work out of hay, leftove,r free housepaint and love into this earthen structure that is his "museum". Twenty-five years on, people volunteer as caretakers to the site, repainting and plastering the work and to me, it's become a kind of iterative abstraction. I spent 13 days camped under the stars without a tent, off-grid, near by and photographed inside. This wall is a testament to making art outdoors, for oneself, for god and all to see. It was the most freeing place in the middle of nothing, that he ultimately turned into something of an international pilgrimage site.
Bathed in Darkness, Bathed in Lightness
(2019)
30" x 20" H
Edition of 10
Archival Print on metallic paper
This is a photograph of the pennies wish fountain in front of the Madonna Inn. I had always admired this fountain. And even though throwing pennies is kind of a weird, gross thing, I find the sentiment from people, couple's and kids doing it really sweet. The pattern the water makes from the vibration of the coins makes me think about each vibration we all make in the universe flowing into one another. The color chartreuse that I pushed the image to is the color of "growth". The alchemy of the coin's patina and the water spout create this sense of change in togetherness.
Ask Yourself What You Need in the Mirror to Heal
(2019)
Chromagenic Print
30" x 24"
Edition of 10
These shards of mirror glass were laid together in an installation in Slab City. Who knows whether it still exists or not, as the place is off-grid, but I love seeing work that is part OCD, taking taboos and shifting the energies. I see in the work, freedom, self-love and the ability to have courage to summon our own power to change and create. Like Smithson's glass or Irwin's smokey reflective mirror, the light from these works break dimensionality and sends one into another realm of possibilities.
Double Harmony
(2019)
10 1/2" x 14" H
Chromagenic Print
Edition of 10
My studio was poolside for a while when I first moved to Ojai. So, I would just conduct shadow work experiments. The shadows becoming the work, revisiting Jung as an adult, listening to Matt Kahn's expression of talking to one self in the mirror, and being a scorpio harnessing shadow into who we are and not suppressing that was an important practice in freeing myself through better understanding of self was the start of my spiritual journey. The crystal glasses seemed dead in the cupboard and I wanted to give them a new life. Much of my practice is about using materials that are discarded or seen out of the corners of our eyes and bringing them into focus. Doubling up the image gave the shadow duality more directness.
New Moon / Full Sun
(2019)
10 1/2" x 14" H
Chromagenic Print
The new moon is all about setting our intentions. When we start anew, we can set agendas, actions and structures to help us activate who we are and what we are meant to be contributing to this life. The sun making the shadows was me finding my light and using light and shadow as material. The sun can be nourishing in so many ways, for our bodies, for our psyche and for plants to photosynthesize oxygen we breathe and plants we eat, nature we are part of. Embracing the shadow work, and setting an intention into this crystal prism, we slow down and observe everything around us in a state of blissful gratitude.
Moon and Earth Mother Necklace
(2019)
Sterling Silver, Grey Pearl
Dimensions Variable
Known for their calming effect, pearls can balance one's karma, strengthen relationships, and keep children safe. The pearl is also said to symbolize the purity, generosity, integrity, and loyalty of its wearer.
Chiron Key Charm Necklace
(2019)
Dimensions variable
Sterling silver
Wearing crystals and symbols can lend one power. The energies from charms helps hold space for oneself when one needs an extra boost and focus. They can be grounding and beautiful. The chiron is the key to unlocking who we are meant to be, embracing all the things we are afraid of normally and letting us own our magic.
Plant Jewelry
(2019)
Dimensions variable
acrylic paint, leaf, sterling silver
Hanging from a strand of delicate but strong silver chain, this alchemized work oscillates and is reflective. I was just drawn to this plant and silvered, its vibe transformed into something ethereal and otherworldly.
White Barn Owl Everlasting (Soft Totem I)
(2019)
Approximately 8" heighth
crystallized Everlasting flowers, white barn owl feather, hempwick
Made from everlasting blooms that I harvested locally, I love white flowers because they seem like the underdog. Competing with all the colorful and audaciously shaped flowers for pollinator's attention, I appreciate their humble, small flowers but adore their powerfully fragrant addiction. These flowers when harvested in full bloom will dry like that forever, hence the name. I crystallized it and made a little homage to the barn owl feathers that fall on the ground on my property from this sacred being. Giving it another life and honoring its presence. It is said that the white barn owl signifies death. Death is welcome when it brings new life.
Rose Tales (Soft Totem 3)
(2019)
Approximately 12" length
crystallized white rose, tailbone, hempwick
These sculptures I refer to as "soft totems". Made from the roses I harvested from my garden, a whole animal skeleton I found while on a photoshoot on a farm and hempwick. It's a kind of exquisite corpse that honors life and death in its many stages. Delicate but tenacious little creatures that are morphed into oneness. I also refer to them as "bone wands".
Pine Star Everlasting
(2019)
Approximately 8" Heighth
Pine needles, acrylic paint, Everlasting flowers
Road Swerve (Daily Grind)
(2019)
20 x 30"
Chromagenic Print on metallic paper
On my way back from shooting the self-portrait, I saw these burn outs on the road. I got out of the car and climbed on the roof to shoot these. It made me remember to have fun. That in all the work that we do to heal, to create and express ourselves to never forget to enjoy the ride. I can't say I've ever personally done donuts like this in my own car, or condone any risky driving practices, but hell… I hope this person sure had fun. I always liked looking at the "tar paintings" from asphalt road repairs and burn outs and just wanted to document them. It reminds me of Pollock and just gestural work, drawing with my pencil but here, with tires.
"Sky Woman Falling into Water" (Soul Hole)
(2019)
Chromagenic Print on Metallic Paper
20" x 30" H
Edition of 10
I wanted to include a self-portrait in this exhibition specifically, because the concepts "In Praise of Shadows" was such a personal one on my spiritual journey and transformation. Through fire and back into the water, as a scorpio, my art has mainly been about how I perceive the world and myself in it. I had this vision of myself as part of the earth's core, its magma. As a layering of time and space, I am underwater, unseen by myself but only by others. I had always had this blindspot to how others perceived me and wanted to convey the "Sky Woman" from the Native American creation story as someone who is all of us. We are all lifted by nature's gifts and have such abundance that we must tend to. I traveled through a canyon to get to these cliffs and merged myself into the rock above water. The reflections of water on my skin and the rock's surface makes it all appear as if the elements are one - water, earth, wind in my hair, sky in water, and fire in rock.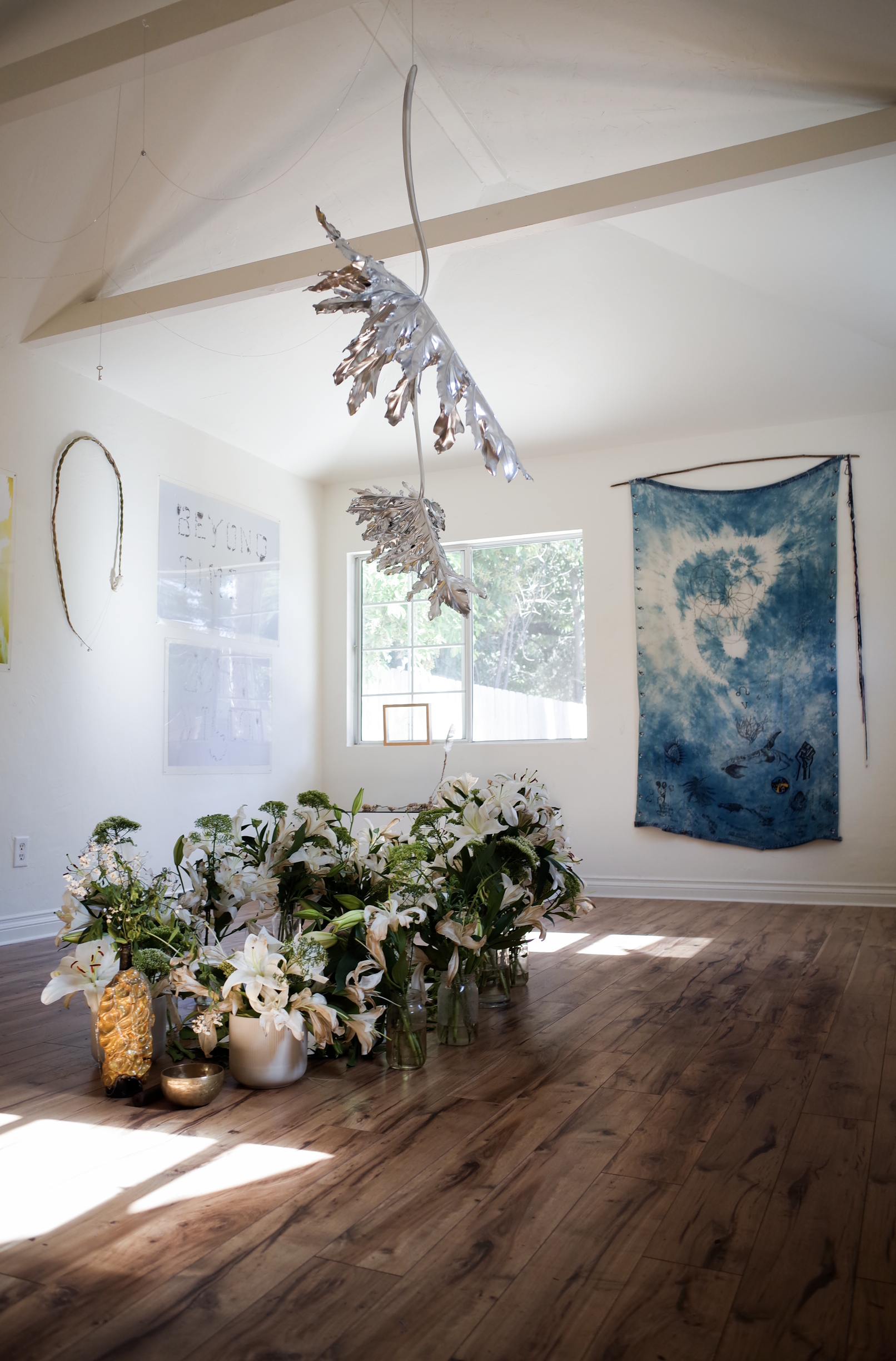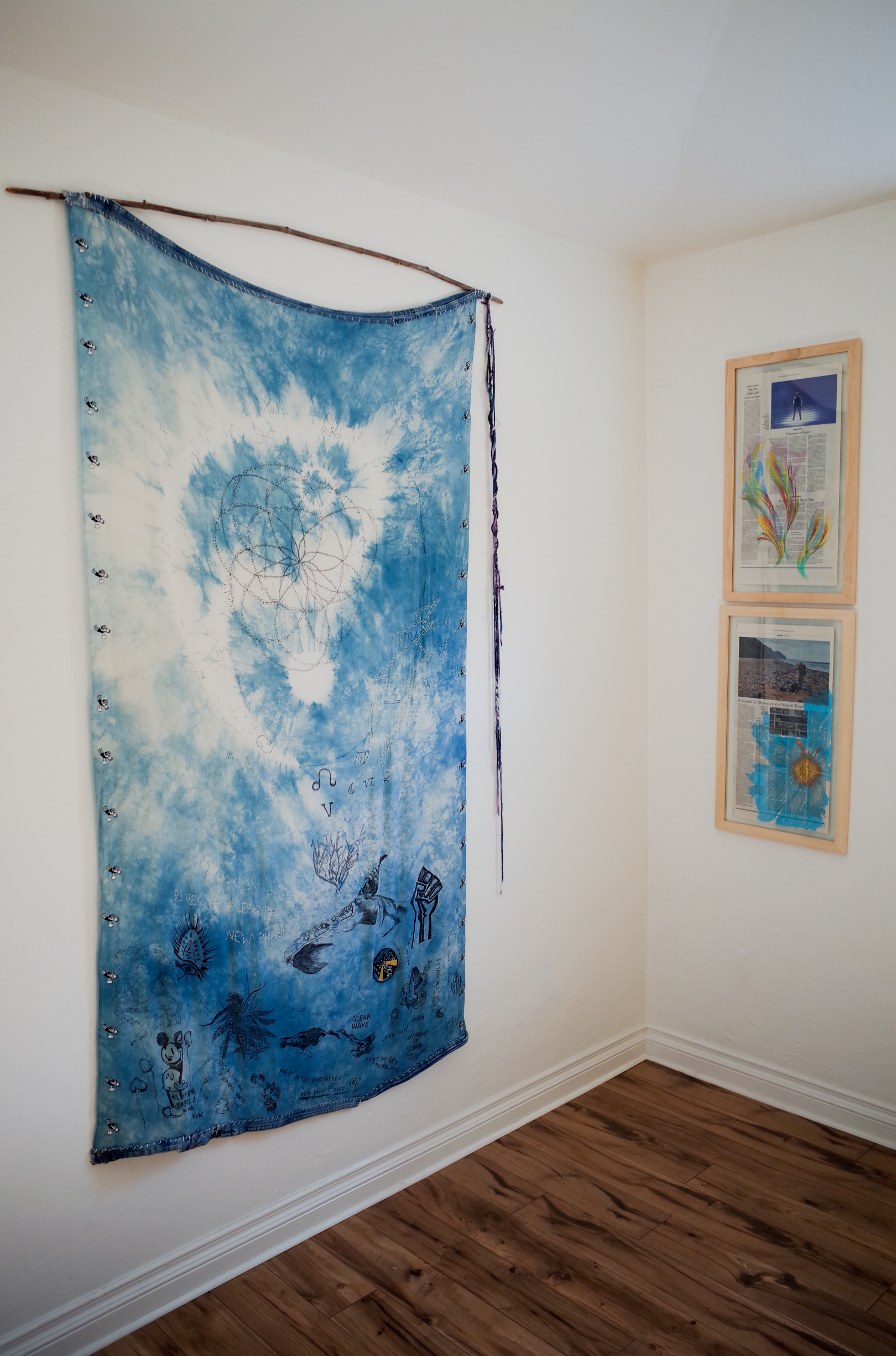 Silk Banner Drawing and Newsprint Drawings
Installation Views
Bronze mirror table with "Soft Totems"
45" x 25"
Installation View
Rose Gold & Sterling Silver Listening Bottle
Lily Bed performance and interactive installation
Dimensions variable
Chromagenic prints and Silver Plant Jewelry